An Unprecedented Energy Investment Opportunity Is Now Unfolding…After More Than 75 Years, Mexico's Massive Untapped Energy Reserves Are Finally Being Unlocked
One Under-the-Radar Company – International Frontier Resources (TSX.V: IFR); (OTCQB: IFRTF) – Now Stands Poised to Become Mexico's Next Energy Leader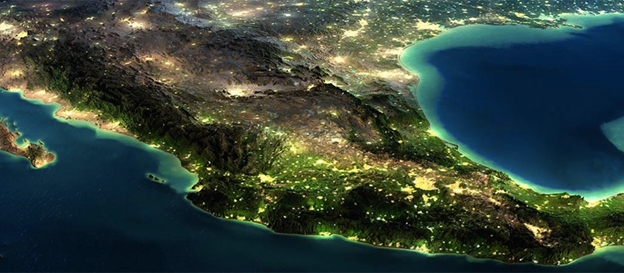 The "sleeping giant" has awakened…and in the process an unprecedented investment opportunity has been triggered.
After more than 75 years, Mexico's government implemented a comprehensive energy reform program that has encouraged foreign investment in the oil and gas sector.
Once the Mexican government committed to reforms and allowed foreign investment into its oil and gas sector, one of the first companies to pounce on this opportunity was International Frontier Resources (TSX.V: IFR); (OTCQB: IFRTF).
Industry-Leading Joint Venture Gives International
Frontier Resources a Huge Advantage
Once foreign investment in Mexico's oil and gas sector became a possibility, International Frontier Resources set a goal to partner with an experienced local operator to combine IFR's proven Canadian expertise with on-the-ground experience in Mexico.
In August 2015, IFR announced that it had entered into an industry-leading 50/50 joint venture with Grupo IDESA, one of the largest petrochemical companies in Mexico – with 60 years of experience in the sector.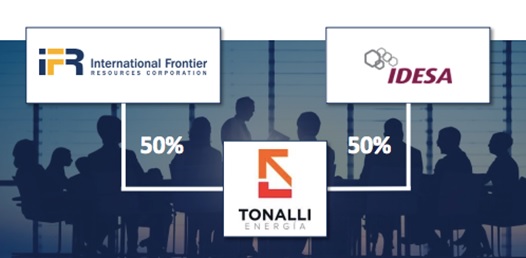 Together, Grupo IDESA and IFR formed Tonalli Energia to identify and explore oil and gas opportunities available via the Mexican government's bidding process.
In May 2016, this new partnership – Tonalli Energia – was notified by the Mexico Comision Nacional de Hidrocarburos that it had been awarded the onshore oil and gas development block 24 (Tecolutla Block).
In a moment, I'll explain how this property – a mature field with massive potential – could hold the key to significant growth potential.
But first I need to tell you how…
Mexico's Energy Reform Has Triggered a Potentially
Massive Under-the-Radar Investment Opportunity
For almost 80 years, Mexico's massive oil and gas resources remained vastly underdeveloped.
The national oil company – Pemex – owned a monopoly on the nation's energy reserves.
But the combination of scarce capital along with slow adoption of modern drilling technology resulted in the underdevelopment of fields loaded with potential…and Mexico's oil production eventually nose-dived.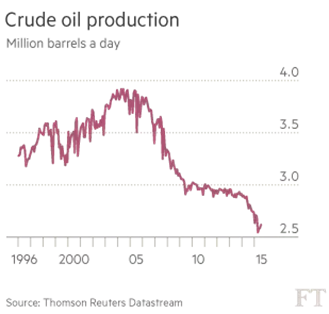 In 2013, the Mexican government took steps to change this scenario by introducing comprehensive reforms and breaking up the Pemex monopoly.
These historic reforms have opened the doors for new exploration – by companies with the experience and technology to develop Mexico's enormous reserves…
And – at the same time – this has triggered an unprecedented opportunity for investors.
Simply put… the opportunity for oil exploration in Mexico today is like going back in time to Alberta or Texas in the 1970s.
By lifting strict state control over its oil and gas sector, Mexico has invited a flood of foreign investment in the hopes of returning Mexico to its previous position as one of the top crude producers in the world. The unprecedented nature of the opportunity can be gauged by the scale of a recent auction in January 2018 attracting a potential investment of almost USD $100 billion!
And companies like International Frontier Resources (TSX.V: IFR); (OTCQB: IFRTF) are moving quickly to seize this opportunity.
The Tecolutla Block: Large Property and Ideal Location
In May 2016, IFR's joint venture with Grupo IDESA – Tonalli Energia – was awarded the rights to tap into the Tecolutla Block.
The Tecolutla Block is a 7.2-square-kilometer block in the Tampico-Misantla Basin located within the business-friendly state of Veracruz.
In addition, the Tecolutla Block is located just 60 kilometers from Poza Rica, a major oil and gas service center…and Grupo IDESA's port facilities and trucking division are also located in Veracruz.
Veracruz is known as a world-class petroleum area with significant reserves, including…
The first five wells in the Ezequiel Ordonez field, which is within 50 miles of Tecolutla, had an average IP rate of 8,100 barrels per day per well.
The massive Poza Rica oil field – also within 50 miles of Tecolutla – is estimated to contain 3.8 billion barrels of oil.
And the Chicontepec tight oil play is a potential 81-billion-barrel behemoth.
The Tampico-Misantla Basin could be an onshore "Super Basin" with potentially huge unconventional oil and gas potential.
This property has historic peak production of 900 barrels per day from three wells…and the last well was in production until December 2014.
But like many oil and gas fields in Mexico, International Frontier's technical team believes oil production from Tecolutla has not been optimized.
The team has re-evaluated the field using existing well control and 3D seismic and believes that horizontal drilling and workovers will yield daily production results that exceed the historical peak production of 900 barrels per day and significantly increase recoverable reserves.
To execute its plan, the Tonalli team intends to deploy advanced carbonate drilling, completion, stimulation and recompletion techniques in the Tecolutla Block.
International Frontier Resources (TSX.V: IFR); (OTCQB: IFRTF) is Moving Quickly at Tecolutla
After being awarded the Tecolutla Block in May 2016 – and taking ownership from Pemex in November 2016 – the company moved quickly to secure regulatory approval and drilling authorization permits by January 2018.
In March 2018, Tonalli commenced drilling operations including rig mobilization for its TEC-10 directional-evaluation well at Tecolutla.
Just a few weeks later – in April 2018 – IFR became the first foreign company through joint venture to drill onshore conventional oil in Mexico in almost 80 years.
This drilling will help the company re-define its property and evaluate the potential productivity of the field.
To date, all operations have run smoothly, including road construction, lease construction, social programs, environmental impact studies and rig mobilization.
The company's goal is to produce its first oil from Tecolutla in the second quarter of 2018 and then move quickly to maximize the reserves and production on the property.
Future Bid Rounds Offer Even Greater Potential in Mexico
To date, Mexico's National Hydrocarbons Commission has awarded 69 exploration and production contracts.
On January 25, 2018 the Commission announced its next round of onshore bids – covering 37 onshore conventional development and exploration blocks.
These blocks collectively cover more than 9,500 square kilometers with prospective resources of approximately 260 million barrels of oil including wet and dry gas, and light oil.
The auction for these properties is set to take place in the fall of 2018 and International Frontier Resources (TSX.V: IFR); (OTCQB: IFRTF) is currently evaluating the potential for expanding its land base in this – as well as future – onshore bid rounds.
Oil Price Surge Creates Favorable Scenario for Companies Like International Frontier Resources (TSX.V: IFR); (OTCQB: IFRTF)
Over the last six months, oil prices have surged – climbing over 50%.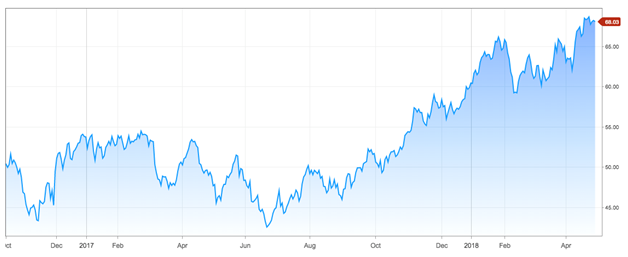 This rebound in oil prices can be attributed to a number of factors, including OPEC's ongoing efforts to limit production globally.
The International Energy Agency has issued a statement confirming that the oil "glut" of the past several years is ending…and that reduction in supply will translate into higher oil prices.
In fact, many experts are now projecting that oil prices will soon surge back past the $100 per barrel mark as continued strong demand for oil – combined with OPEC's production limits and rising geopolitical tensions – trigger a strong move higher for oil.
As oil prices continue to climb, the environment for companies moving toward production – like International Frontier Resources – becomes even more favorable.
Companies that had been projecting growth with oil prices at the $60- or $70-per-barrel level will be in position to potentially blow past estimates should oil prices climb past the $80- or $90-per-barrel level in the months ahead as projected.
---